There's been a quote by D.A. Carson making the rounds on the blogosophere, most recently here (emphasis not mine):
Martyn Lloyd-Jones once spoke with a group of medical students who complained that in the midst of their training and the ferocious work hours they really didn't even have time to read the Bible and have their devotions and so on. He bristled and said, "I am a doctor. I have been where you are. You have time for what you want to do." After a long pause he said, "I make only one exception: the mother of preschool-aged children does not have time and emotional resources."

It is important to recognize, too, that there are stages of life where you really don't have time to do much, and you shouldn't feel guilty about it. Children will sap you. If you have three children under the age of six, forget serious reading unless you have the money for a nanny. When our youngest finally went off to kindergarten, we celebrated that day—I took my wife out for lunch. Only then could she get back into reading again. It's the way life is. You have to be realistic.
You can read the comments for some of our attempts to point out the flaws in his logic.  But it did make me think: what are some practical, concrete ways that Mommies of littles can still meditate on Scripture and spend time in prayer?  There are no "right" answers here, but these are some of the things I've personally experienced.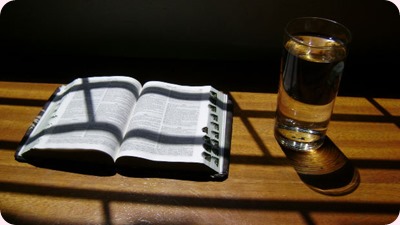 1. On the computer.
Be it a tablet, a laptop, or a full-fledged desktop, computers are a lot more child-friendly than a thin-paged Bible. Bibles and toddlers do not fare well together.  So let's get out of the way, right away, that there's nothing holier about reading a bound book than a glowing screen.  I'll bet the glowing screen will be a lot easier. If you're reading this blog post, you could be reading your Bible.
2. On index cards.
High schoolers taught me this one: write verses on cards and stick 'em on your mirrors, on your windows, over your kitchen sink.  Who says it has to be a whole chapter? Better to eat a bite here and there than to starve!
3. With your children.
This is easiest if you invest in some good, Scripture-filled story Bibles.  I can't tell you how many times I've been reading illustrated Bible stories to my kids and found my own heart profoundly convicted.  I imagine older kids would have the attention span to listen to a non-illustrated, real Bible reading, but for toddlers, I can speak firsthand of the great impact that an illustrated, but still literally Scripture or at least paraphrased Scripture, Bible story reading can bring to Mommy's heart.  Similarly, you can memorize a story and tell it to your children.
4. When your children are asleep.
Naptime. I really believe in naptime, for many reasons. In our house it is a "quiet hour" (actually, two hours long) when the children are expected to be quietly in their room, by themselves, asleep or resting.  This is a great time to do things like talk to God and spend time reading His word.  Also, children, especially toddlers, need a lot more sleep than grown-ups, so hopefully they either go to bed way before you or get up much later than you – even more time to read and pray.
5. In music.
There is a LOT of music out there that is just Scripture.  Seeds Family Worship jumps first to my mind.  If I'm having trouble eking out time to sit down and read the Bible and pray, I'll put on some Seeds or other Bible memory music and listen and sing and praise and pray while I'm dashing around the house chasing children, cooking dinner, or mopping floors.  Multitask!
6. With other people.
One thing I have learned about myself is that I can make time appear out of nowhere if there are other people expecting me to accomplish certain tasks.  In other words, all I need sometimes is a little push, a little pressure, to inspire me to tear through the laundry or the dishes in record time so I can sit down for a moment and get to the Bible study.  If I know someone is expecting me to have read and prayed, and expecting to discuss it with me… I'll usually have figured out a way to get it done.
7. As a family.
This is like #3, of course, except that I'm talking about more of a "family worship" type thing here. This isn't including the children in my devotional time, this is a time of mutual benefit in which I am following my husband's lead.
8. In school.
If you homeschool, pay attention when you teach Bible!
9. On your phone.
Waiting in line at the grocery store, waiting for the pediatrician to decide it's time for the appointment to actually begin, sitting in the rocking chair nursing the baby, sitting next to your toddler soothing them to sleep, pacing the church foyer with a fussy baby… like computers, phones make great Bibles. I am not an extremely distractible person, but I still try to keep the apps on my Android phone at a minimum to encourage myself to reach for the Bible app rather than something else to alleviate those temporary moments of boredom.
10. Throughout the day, constantly.
For the word of God is living and active, sharper than any two-edged sword, piercing to the division of soul and of spirit, of joints and of marrow, and discerning the thoughts and intentions of the heart.
(Hebrews 4:12)

His divine power has granted to us all things that pertain to life and godliness, through the knowledge of him who called us to his own glory and excellence,
(2 Peter 1:3)

All Scripture is breathed out by God and profitable for teaching, for reproof, for correction, and for training in righteousness, that the man of God may be complete, equipped for every good work.
(2 Timothy 3:16-17)

I have stored up your word in my heart,
that I might not sin against you.
(Psalm 119:11)
The message of the Word of God is relevant to our lives. If you live with toddlers, how do you answer the unending questions without cracking open the Bible? So many things in our daily lives tie back to the Word of God. So many things with children require the wisdom of Scripture. We have to know it and use it in order to evangelize our little ones.  We have to know it and use it in order to know how to behave ourselves.  We have to know it and use it in order to remind ourselves of the daily comforts of grace and the coming glory of heaven.  The words should come to our minds and be in our hearts and flow out of our mouths. If we don't know the words, we should be flinging ourselves into the pages of Scripture and pleading with God to engrave it on our hearts.
Being without Scripture is like being without water. We thirst for God. We need to drink.