One of the things I much enjoy doing is taking some bit of the Puritans and trying to make them more accessible to modern audiences—a habit that began with my trying to translate a systematic theology into a five-year-old's vernacular.  There is so much wisdom from long ago, but sometimes it's so hard to get to.  Even tiredness can make reading the Puritans impossible.
Anyway.  This little piece sprung out at me.  It's very loosely based on "Meditations for the Morning" by Lewis Bayly. 1611.  Things to think about when we get out of bed in the morning—little reminders to our souls.  I love how Bayly makes little, mundane things echo with eternal significance.
~*~
Six things to ponder when you get out of bed in the morning…

1: The gift of awakening.
Just as God kindly awakened you from sleep this morning, one day, He will awaken you from the sleep of death.  Just as the rising sun makes the morning sky a glorious delight of color and the joy of a new day filled with possibilities, one day Christ and all His angels will come in a morning far brighter and greater when He comes in judgment.  As the animals this morning can see the ordinary light of day, you, with the eyes of faith, keep your eyes on the glorious light of that great coming Day!  Just as God awakened you this morning, so the last day is coming when we will awaken into eternal redemption.
And then they will see the Son of Man coming in a cloud with power and great glory. Now when these things begin to take place, straighten up and raise your heads, because your redemption is drawing near." (Luke 21:27-28)

Henceforth there is laid up for me the crown of righteousness, which the Lord, the righteous judge, will award to me on that day, and not only to me but also to all who have loved his appearing. (2 Timothy 4:8)
 2: God's provision for you in your sleep.
The enemy is as a roaring lion, walking about to devour you (1 Peter 5:8, Job 1:7); who knows how near he came in the night when you slept, and yet God hedged you and watched over you and guarded you with His angels.
In peace I will both lie down and sleep; for you alone, O LORD, make me dwell in safety. (Psalm 4:8)
3: The alarm clock.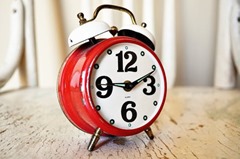 When your alarm clock wakes you up, remember Peter, and how he repented when he heard the "alarm clock" of his day—the cock crowing (Luke 22:61-62)—and consider the final call of the last trumpet, which will wake us all up at the last day.  Consider your state if God called you this very morning, and change your habits so that you would be ready!
Therefore you also must be ready, for the Son of Man is coming at an hour you do not expect. (Matthew 24:44)
4: God is watching. Angels are watching.
Remember that God sees your lying down and your rising up and knows all your ways (Psalm 132:2-3).  Remember that the angels, who guarded and watched you all night, are also watching how you awaken and begin your day.  As you go through your day, remember that they are watching you, and the Lord God is watching you.  Remember that you are in the fearsome presence of God and in the sight of His holy angels.
Can a man hide himself in secret places so that I cannot see him? declares the LORD. Do I not fill heaven and earth? declares the LORD. (Jeremiah 23:24)

5: Getting dressed.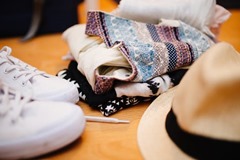 As you put your clothes on for the day, remember that clothing was a gift God gave Adam and Eve to cover their shame—the shame of their sin.  God made the first clothing from the skins of dead animals—another sober effect of human sin.  Therefore, don't be proud of your clothes.  It should be humbling that they are necessary.  Even the prettiest clothes are still just a covering-up of that shame of sin and fallenness to which we are born. Remember that He still provides our clothing, just as He does for the lilies of the field (Matthew 6:28).
Therefore do not be anxious, saying, 'What shall we eat?' or 'What shall we drink?' or 'What shall we wear?' For the Gentiles seek after all these things, and your heavenly Father knows that you need them all. (Matthew 6:31)
But just as your clothes cover the shame of sin and keep you warm, remember and be certain that our souls are covered with the righteousness of Christ (Matthew 22:11, Romans 13:14, 1 Corinthians 1:30, Philippians 3:9, Revelation 19:8; Ephesians 4:24).  Take care that despite being richly dressed in human terms, that you are not naked and filthy in the sight of God (Revelation 16:15).  But, with His righteousness as a robe, our shame may be covered! Our souls may be shielded from the firey cold that will bring eternal weeping and gnashing of teeth (Matthew 22:13).  Consider how blessed our nation would be if every fine set of clothing covered a soul similarly sanctified—and how heavy the judgment for those with such outward blessing and adornment who are yet so inwardly naked and filthy.
6: The coming day.
Think of your plans for the day.  Consider that God's mercy is renewed to you this morning, every morning, bringing you new life (Lamentations 3:23)!  This morning, He made the sun rise again to give you light.  Don't let today's sunlight burn in vain!  Give Him thanks.  Plan to glorify Him in obedience and devote the day to following His commands.  Take a moment even as you roll out of bed, or before, to honor him as the day springs forth, confessing your sins, asking pardon for all your shortcomings, thanking Him for all He has done for you, and asking His protection over the day for the church, yourself, and everything belonging to you.